Andrew Butt - Performer, Composer, Educator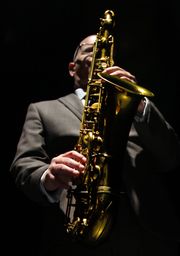 Andrew is a Brisbane based performer, composer and educator who has been active in the Queensland and Australian music industry over the last 25 years. Andrew has been particularly prominent on Queensland's jazz scene, winning the best jazz work category at the Queensland Music Awards and being a finalist on multiple occasions. In 2013/14 Andrew was the recipient  of a prestigious Churchill Fellowship which involved traveling to Chicago, Seattle and New York  to investigate jazz education, composition & performance.
Andrew's compositions have been performed and recorded by a variety of artists including his own groups  and the Enthusiastic Musicians Orchestra (EMO) a Brisbane based collective of musicians, composers, and arrangers who are predominantly dedicated to performing new Australian works. In 2014 Andrew was commissioned by Jazz Queensland with sponsorship support from the Queensland Government to create a new work that was premiered at the Brisbane International Jazz Festival . Following this in 2015 Andrew was invited to return as a featured artist for the festival in collaboration with international vocalist Wilma Reading. He has led the Andrew Butt Trio + at venues across Australia and internationally including Le Baiser Salé (Paris) , Sunset - Sunside Jazz Club (Paris,) iF jazz Cafe (Budapest), U Malého Glena - Jazz (Prague), Bennetts Lane (Melbourne), Paris Cat Jazz (Melbourne), Brisbane Powerhouse, JMI Live, Doo Bop Jazz, Brisbane Jazz Club, Brisbane Multicultural Arts Centre, Tanks Arts Centre (Cairns) and at multiple festivals including the Wangaratta Festival of Jazz, Easter Jazz, the Valley Jazz Festival and the Brisbane International Jazz Festival. Andrew has also performed as a sideman for many of Australia's leading jazz artists including James Morrison, Emma Pask, Tom Burlinson, Dan Barnett, Rhonda Burchmore and David Campbell and has collaborated as a soloist in a variety of classical and contemporary ensembles including the Musica Antiqua Collegii Sinphonia. Other career highlights have included being featured as a jazz soloist with the Queensland Symphony Orchestra and performing with John Riley, resident drummer from the Vanguard Orchestra based at the Village Vanguard Jazz Club in New York and also multi award winning vocalist Kristin Berardi as a member of The Enthusiastic Musicians Orchestra. Andrew is also a member of "The Francis Wolves" a Brisbane based 8-piece instrumental funk juggernaut!
In 2011 Andrew was awarded a Special Commendation award at the Australian Society of Music Educators (ASME) National Conference by the Hon Peter Garrett AM, MP, Minister for School Education, Early Childhood and Youth for his contribution to Music Education as part of the Australian Governments Quality Teacher Program. Many of his students have gone on to forge successful careers in music performance and composing with a diverse range of artists including the Berliner Philharmoniker, Opéra National de Paris, Nigel Kennedy, The Queensland Orchestra, The James Morrison Quartet, Trichotomy (formerly Misinterprotato), Ben Carr Trio, West End Composers Collective, Ball Park Music and the John Steel Singers.
Andrew holds qualifications in both Education and Music including a Masters Degree in performance and research from the Queensland Conservatorium - Griffith University and  a PhD in music performance from the University of Queensland. He has studied with and been mentored by a diverse range of saxophonists in Australia and the US including Tony Hobbs, George Garzone (@ Berklee College of Music), Chris Cheek, Bill McHenry and Branford Marsalis. Andrew has toured extensively as a performer, educator and director of ensembles throughout Australia and internationally to Indonesia, Fiji, New Zealand, China, Europe and North America. Andrew is currently the Head of Music at Marist College Ashgrove in Brisbane and a casual academic at the University of Queensland.